Stewardship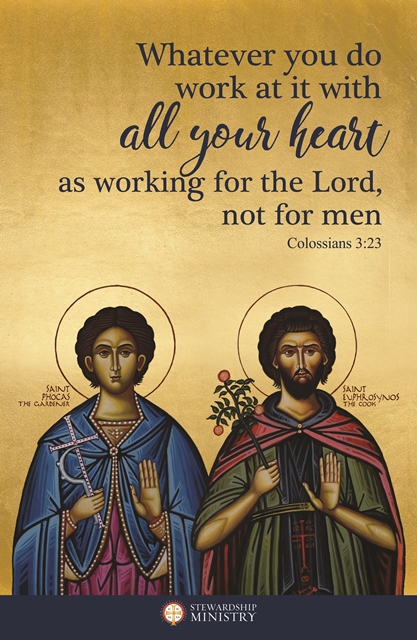 Make your stewardship pledge online!
Secure Payments through Paypal - you don't need an account with them!
---
We Wish to Thank the following for filling out a Stewardship Card for 2018:
Agler, Matthew & Lisa
Ashley, LeVern & Ellie
Atanasov, Strahil & Snejinka
Augoustiniatos, Elizabeth
Balinbin, Creighton & Trudy
Bertuglia, Joe Mr. & Mrs
Critzos, Constance
Cromartie, Ty & Andrea
Cuclis, Terry & Velda
Ely, John
Gazaw, Helen
Gazis, Evangeline
Gazis, William M.
Hammack, Glenn & Connie
Hammock, Tina
Henderson, Jimmie
Lardas, Mark & Janet
Leo, Ross Mr. & Mrs
Liolios, George & Vasilia
Loveless, Michael and Angela
Marinos, Lou and Alice
Maxson, Neil & Mary
McFalls, David & Mariam
Metaxas, Costas and Deena
Mourtakos, Demetrios & Sylvia
Mourtakos, Elias & Evangelia
Nassif, George & Zeina
Nelson, Allen & Cleopatra
Padilla, Chrysanthe
Papasozomenos, Theo Mr. & Mrs
Patelis, Athena
Patelis, Irma
Polemenakos, Steve Mr & Mrs
Quinn, Thomas & Colette
Rapos, Kosta & Janet
Richards, Eric & Beth
Rigas, Georgios & Aikaterini
Robertson, Eric & Abigail
Saba, Jamileh
Saifi, Tony & Dawn
Saphos, Maria
Savage, Michael & Monica
Simeon, Maria
Sokol, Cali & Bob
Suniga, Raul & Callie
Tambourides, Merja & Panayiotis
Tambourides, Theo & Andriana
Tampouridou, Kika
Taneff, George & Yntong
Thanos, Demos
Theodoridis, Mark & Teresa
Tsiantopoulos, Dimitris & Xiaoli
Tsougarakis, Priscilla
Varsos, George & Andria
Varsos, Spyros & Noula
Whittington, Jerry
Wood, Christopher
Yunakov, Heleni
Zachariades, Harry & Pam
Zacharias, George & Mary
60 Pledging Families
$82,654 in Pledges
---